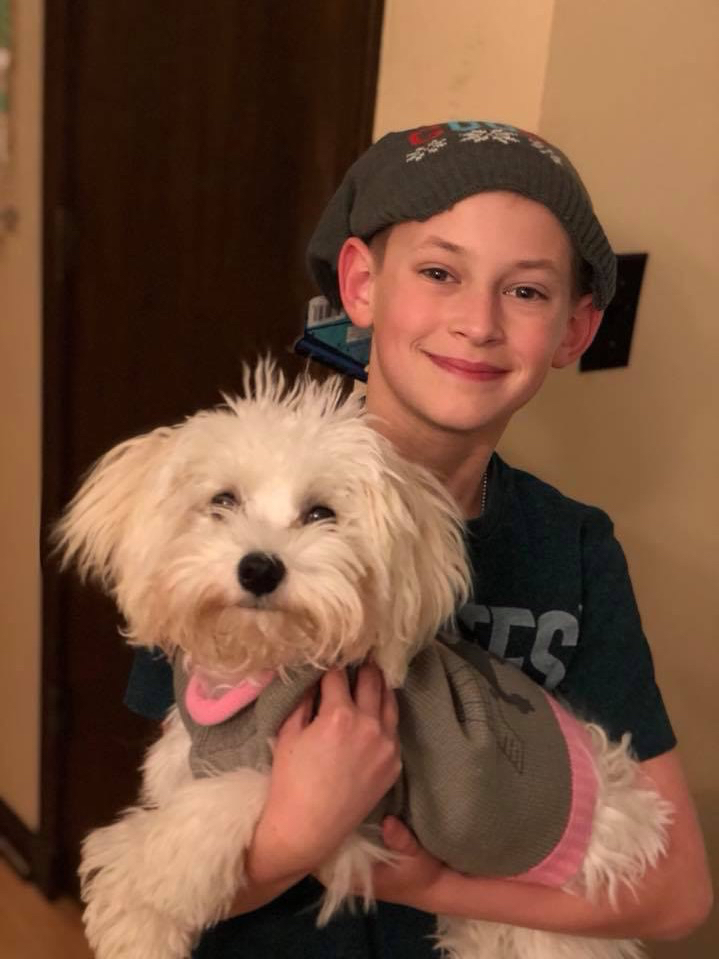 Our journey to adding our beautiful Luna to our family was a long and often heart-breaking one and the happy ending began with Bill and Paula and AngelHeart Havanese.
Our son has always LOVED animals and had wanted a puppy for as long as he could speak to let us know. As an only child, we knew he would benefit from the responsibility, and what little boy wouldn't benefit from a furry best friend? However, we discovered from an early age that Jackson was allergic to dogs. He even had bad reactions to most breeds (usually designer mixed breeds) that were supposed to be "hypoallergenic". So, we had kind of lost hope and settled on getting him a guinea pig. Whereas he took very good care of Gizmo, it just wasn't the same.
One day, shortly after our guinea pig passed away, I was talking to my sister in Wichita, KS who was telling me about Havanese dogs and that I should look into the breed for Jackson. I had never heard of Havanese dogs. My brother-in-law has a cousin who breeds them and often works with a breeder in Kansas City (where we live) and suggested that I give them a call.
We were in luck that one of the dogs at AngelHeart had just had a litter of puppies and there were still some available. I contacted Bill and Paula and told them about our situation and Jackson's allergies. They informed me that Havanese are very hypoallergenic and if we had any concerns, we were welcome to come visit the puppies for ourselves. We went with no expectations and no plans to get a puppy that day. We were just researching and checking them out. Bill and Paula warmly welcomed us into their home and let all the puppies climb all over Jackson as he laid on the floor and he had no problems with the puppies! No red, runny eyes and no hives on his arms and legs.
I was very hesitant as the only puppy left was a mostly white female. I had been hoping for a darker-furred puppy. But after discussing with my family, we decided almost immediately that we needed to add her to our family.
Before we could bring Luna home, Bill and Paula were great about letting us come by several times to see the puppy and let her get acquainted with us. She was very quiet and observant of all the other wild antics of her siblings.
When we brought Luna home, it was a huge adjustment for us, but we were so grateful that Bill and Paula had already crate-trained the puppies. Almost immediately, Luna took to her kennel and, after a brief adjustment period, slept in it all night. House-training with Luna was also a breeze and she has had VERY FEW accidents in the last year.
We have had the pleasure of seeing Luna grow up this year and really come out of her shell. She is very high-spirited and energetic. Her quirky little expressions and funny ways are a joy to watch. She is super smart and has learned lots of tricks. She has equally bonded with all three of us (myself, my husband, and our 13 year-old son) and spends her daytimes following each of us around the house, playing fetch, and exploring the yard. She runs up and greets each one of us equally when we return to the house as if we had been gone for days rather than mere hours. She is sweet, smart, funny, hyper, and truly a fur-sister and best friend to Jackson.
We often get lots of compliments on her from strangers regarding her friendly attitude and fluffy appearance and we take time to educate them all a little bit on the Havanese breed (as very few people have ever heard of them, like us). Luna may be a little spoiled and hyper, but we love having her as a part of our family.
Bill and Paula and AngelHeart Havanese really took the time to listen to our concerns and offer their support when we had questions. They welcomed us into their home to help us become more comfortable with the puppy and vice versa. And you can really see the love and care they put into each of their dogs and puppies, even after they've already been spoken for.
Thank you, Bill and Paula, for helping us add to our family with this little, white ball of fluff! She has truly made our family complete!
From: The Snyders
(Kevin, Ginny, Jackson, and Luna)