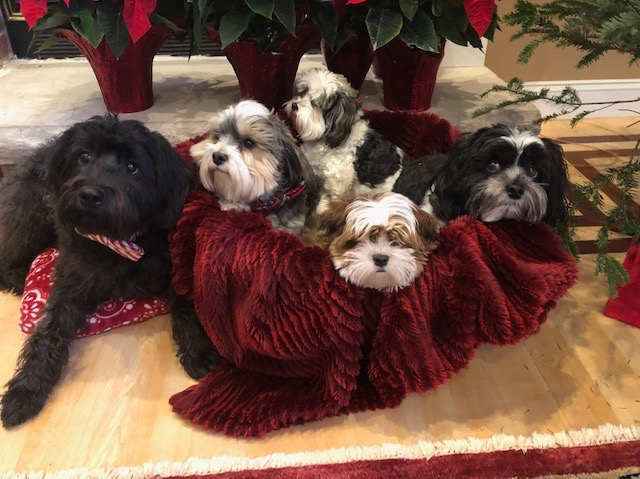 Adorable, Funny & Loveable – Every Puppy from AngelHeart Havanese
Before my son-in-law (then daughter's boyfriend) researched the Havanese breed, I had never heard of them. After college, they lived and worked in separate states visiting each other on the weekends. He wanted to buy my daughter a good apartment dog to keep her company while they were apart. My son-in-law researches beyond necessity, so when he picked the Havanese breed, no one needed to question his decision. Then he was out to find a breeder and it wasn't long before he found AngelHeart Havanese. This is where my obsession for the Havanese breed begins.
When it was time for my daughter to make the "pick of the litter" we planned a family weekend to KC, with a side trip to pick out puppy Macaroon. Before my husband and I left St. Louis for the weekend, my mom's last words were, "don't you bring home a puppy!". (She knows me all too well!) However, I really had no intention on falling in love!
We all arrived at Bill & Paula's which was a treat in itself. Their caring, welcoming ways make you feel you've been friends for life. Their puppies are all part of the family, well cared for and beautifully socialized. Each one was cuter then the next. My daughter had her eye on a little boy puppy, so while she, her sister and boyfriend were off staring at the little boys, lo and behold, the runt of the litter, found her way to me. OH MY GOSH, I was smitten with this tiny 15 oz ball of black and white fur. I picked her up and tried to convince my daughter that she was the one. But my idea was rejected. I immediately named her Tinkerbell. My husband wouldn't even look at me while I was holding her, HAHA guess who came home to St Louis? Within three years, we decided Tink needed a new friend, Timmy our second Havi, and our first boy dog ever was added to the family. This now brings our family Havanese total to 3. I was so comfortable with Bill & Paula by then that I picked him by a picture. When my cousin decided to get a dog for his kids, I immediately told him about AngelHeart, which brings us to Cooper, Havi number 4. My cousin, who did not grow up with dogs, constantly tells me what a great decision it was to bring Cooper into the family. And finally, bringing up the rear is Phineas, my daughter and son-in-law decided Macroon needed a new little Havi brother! So holidays at our house are really Havi-Days! Our other daughter? Well she went off the trail a little and has an adorable Mini Labradoodle, named Oakley who thinks he a Havanese.
There are so many wonderful reasons to be an owner of an AngelHeart Havanese, the puppies and momma dogs are well cared for and loved like they should be loved. The dogs are bred thoughtfully and with consideration, always with the dogs best interest in mind. The puppies are socialized and cuddled. They are healthy and each one comes with their own delightful personality. A great family dog. Every dog I have ever owned, I have loved like a family member, however, I never repeated the same breed twice, until now. This is my breed AND breeder of choice! AngelHeart Havanese
Annette Schweiss
Saint Louis, MO